The ProDemo project series deals with robot programming by demonstration and with 3D modelling by demonstration i.e. while a human operator shows how the transport or assembly tasks are done. Together with collaboration partners like the Machine Tool Laboratory (WZL) of the University of Aachen among others and an advisory group from the industrial automation sector, techniques are developed here aimed at considerably simplifying the implementation of robots in small and medium-sized-enterprises and thereby overcoming the hurdles incurred by SMEs when it comes to introducing robots.
The objective of the project series is to set up an industrial robot in its new work environment and equip it with a sensor head. After switching on the robot, in dialogue with the operator, the robot prepares a task-orientated 3D simulation model of its working environment. On the one hand, this can then be used for offline programming for the visual, simulation-based programming of collision-free paths. On the other hand, a diversity of methods of direct interaction with the robot is available to program tasks through demonstration, whereby the 3D simulation environment manages the movements of the robot and ensures their implementation.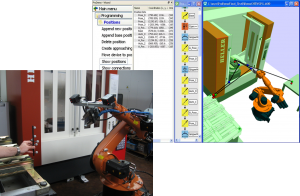 The approach developed in ProDemo brings together familiar and new types of processes in online and offline programming into one standardized and workshop-proven user interface. Due to the direct work with the pointing device in the work cell and the close integration of the 3D visualization, thinking in coordinate systems is dispensed with, thereby clearly reducing the effort and expense that goes into training. The automatic first draft of a robot program and the graphic program editor make it possible to use these as programming aids easily and quickly to program a robot for a movement via the incorporated goal positions. The system is model-based and can therefore offer advanced processes like automatic collision inspection of robot paths. The typically time consuming model preparation is reduced here in a target-orientated manner by only capturing the necessary elements of the work cells for programming. Even without experience in modelling, with the help of a pointing device and intuitive modelling aids the operator is able to get through the modelling training quickly.